Your online forum for News about the Business of Yacht Racing.
65 days to the start of the Forum
IN THIS ISSUE
Tom Whidden: "We probably need two governing bodies"
Tom Whidden (c) DR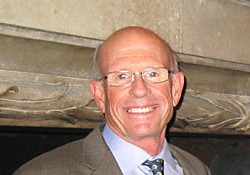 President and CEO of North Sails, Tom Whidden will be one of two Keynote Speakers alongside double Vendée Globe winner Michel Desjoyeaux at the next World Yacht Racing Forum.
Whidden is one of the most experienced America's Cup sailors in the world. He sailed with Dennis Conner in a total of seven America's Cup campaigns, beginning in 1979. He was tactician in five America's Cup series and he has won the Cup three times.
He is also a world leader in the design and manufacturing of sails.
We caught up with Tom and asked him about his views on the world yacht racing scene, and what he considers are some of the sport's key issues at the moment.


WYRF: Tom, what is your view on the sport of sailing from a commercial standpoint?
Tom Whidden: "We've had 5-6 years of wonderful growth, which have allowed our company to increase its revenues by over 50%. All Classes have been strong, from Optimists to Olympic sailing, Farr 40's and bigger classes. Obviously, this year's global economy has hurt sailing. Europe was hit last fall; we started to suffer in January, with our revenues across the world down 10-15 %. But we've made a good come-back since the summer and things are starting to look better. North Sails is probably a good indicator of how the industry is doing."


WYRF: And what about sailing from a sports point of view?
Rolex Big Boats (c) Carlo Borlenghi
Tom Whidden: "Well, there are strong and weak areas. I'm just back from the Rolex Big Boats series and it doesn't get much better than this. The level is very high, there is a good potential for development, lots of interest… Dinghy sailing is going well too, but on the other hand middle sized boats seem to be suffering."


WYRF: Is the sport of sailing managed correctly? What could be done to better the situation?
Tom Whidden: "Oh well, you are going to get me into trouble… Let's say that we can always do better… More seriously: it seems like the leaders in our sport have disparate goals. It is very hard to be in the position of the governing body - especially if there is a lack of leadership - because you have to deal with those conflicting interests."


WYRF: Does the sport actually need a governing body?
Tom Whidden: "Well, there are two types of yacht racers: the professionals and those who want to sail under a Corinthian spirit. May be the solution is to create a professional body for those who live out of the sport. Those people need a professional governing body. On the other hand, we could keep a governing body for the non-professional sailors and events."


WYRF: What is your view on the current status of the America's Cup: Is it just part of the game, as has often been the case in the past? Or has it gone too far this time?
Tom Whidden: "It seems like the individuals who have previously won the Cup have too much power. Perhaps there should be a professional and independent management for the Cup? But then when you look at Formula 1, this is what they have and it doesn't stop them from having all sorts of problems. My opinion regarding the Cup is that Ernesto Bertarelli had some great ideas but he tries to control too much. In this context, Larry Ellison was certainly right to challenge him and I believe that his sense of fairness is correct.
The only sad thing is to have to go through court to settle this. There is probably too much money involved in this game. In 1980, our budget was 2 millions US $. In Australia, for what was probably the best America's Cup ever, we spent 15 million dollars. Nowadays you don't go very far if you don't have at least one hundred…"


WYRF: You will be a keynote speaker at the next World Yacht Racing Forum. What do you expect from the event?
Tom Whidden: "When people are passionate and care about their sport, it is important that they meet and discuss the issues they might encounter. I will go to Monaco with an open mind. I hope for a good dialogue, and to help make the sport and the industry a little bit better. My last word is that I am only one player amongst many others but I have been doing this for 35 years including 7 America's Cups. I have been lucky enough to be able to mix my sport and my business and I feel very fortunate. Now I have 2'500 employees and I care about them. That's why I try to do a good job and look forward to the Forum."


Multihulls in the Olympic Games: what they think about it
Tornados (c) Gilles Martin-Raget
Cam Lewis and Gilles Chiorri will both be speakers at the next World Yacht Racing Forum. They tell us what they think about the elimination of Tornados from the next Olympic Games. Lewis and Chiorri are experts in this field. Gilles is the iShares Cup event manager whilst Cam is arguably the American sailor with most miles under his belt on multihull. Both have raced around the world on multihull, and spent a lot of time and energy promoting this type of sailing.


WYRF: Should there be a multihull Class at the Olympic Games?
Cam Lewis: "Yes for sure"

Gilles Chiorri: "Yes, of course. I was disappointed by the decision taken on August 17. Multihull are just the best type of race boats for both beginners and experts. I don't understand."


WYRF: What sort of boats should be used?
Cam Lewis: "Tornados were a good choice - yet a less expensive F18 or Hobie class could be looked at - and a coed crew mandatory???"

Gilles Chiorri: "The Tornado was a bit obsolete. It should be a technologically advanced one-design for two crewmembers."


WYRF: Any specific recommendation regarding the course, format of the regatta etc?
Cam Lewis: "Windward – leeward courses work well. There should perhaps be a gate in the middle – up and downwind - to add some flavor and make for good TV."

Gilles Chiorri: "We need to bring sailing to the public and vice versa. The racing should therefore to take place very close from the shore. We could have grand stands and live commentary; it could be fantastic."



All you've ever wanted to know about Scuttlebutt
Everyone serious about yacht racing knows Scuttlebutt; arguably one of the best daily sources of sailing information.. Who is behind Scuttlebutt? What is their business model? How did they "fall into sailing"? The World Yacht Racing Forum speaks to David McCreary, the Editor of Scuttlebutt Europe.


WYRF: What does Scuttlebutt mean; where does the name come from?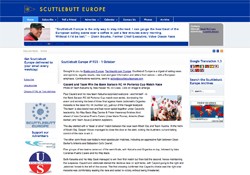 David McCreary: "It's an old English term, it means rumours or gossip, but has its etymology in sailing... scuttle holes were square, used to scuttle a ship to prevent its being taken into enemy hands. Butt used to mean barrel. Barrels of water were kept on deck, laid on their sides, with staves cut and removed to facilitate dipping a drinking ladle into the barrel. The hole cut was thus square and looked like a scuttle hole, and the word Scuttlebutt was born. It also means a place where people will gather. Chatting around the watercooler is the modern equivalent.


WYRF: Who created Scuttlebutt?
David McCreary: "Tom Leweck. In early 2000 I was working for boats.com in San Francisco, a startup dot.com at the time. We signed a deal with Tom that we'd handle the email server and sell advertising, and pay him a monthly fee so that he could just concentrate on writing and editing. I got Tom's readership up from about 3500 to nearly 20,000 in just a couple of years' time. Tom had a strict policy about only having two ads per issue. I sold out the advertising for months on end. Telling advertisers "sorry, can't take your money, go away" was a unique experience, to say the least. So I created Scuttlebutt Europe to grab some of that overflow, and to concentrate on European events, as Tom and I both got countless "Why aren't you covering the XYZ regatta in Somewhere, Europe" letters.

I was Tom's guest editor when he went out over the horizon, as I'd been doing a nightly news piece in my role as ISAF webmaster from 1995 to 2000, taking on the job as Scuttlebutt editor at times was not a big leap for me. I've been on everyone's mailing list since 1994 when I started building websites for the sailing industry. The content flow across my desk is like drinking from a firehose.


WYRF: What's the difference between Scuttlebutt Europe and Scuttlebutt?
David McCreary: "Separate businesses. Tom's son Craig now runs Scuttlebutt. He focuses largely on North America, Scuttlebutt Europe focuses primarily on Europe. Obviously with the big events there is a bit of overlap. I read Scuttlebutt every day... but not until I've written and broadcast Scuttlebutt Europe, I don't want to be influenced by Craig's choice of news. Scuttlebutt has developed a larger following on its website than does Eurobutt, it has a very active forum. There are a lot of forums out there, I did not, and do not feel the need to create another. Instead I've concentrated on the formatting, broadcasting in both text and HTML (Scuttlebutt is still text-only), with a lot of embedded photos linked to photo galleries. I've recently redone the coding so that Eurobutt "collapses" in width so that it can be easily read on iPhones, Blackberries, etc, and still expands for reading on laptops and desktops. I'm currently working on a mobile web version, but device detection is quite a task.


WYRF: Are you the prime source of information for sailing fans?
David McCreary: "I would not be so arrogant as to claim that! One of many... "


WYRF: How many recipients do you have?
David McCreary: "Scuttlebutt Europe has just under 15,000 daily recipients via email. Through RSS and syndication and visits to the supporting website http://ScuttlebuttEurope.com , there are another 1500 to 2000 readers per day.


WYRF: Are you journalists?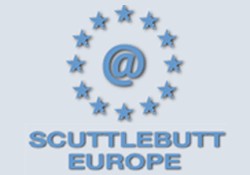 David McCreary: "I don't make that claim for myself. I'm a passable editor and a good cut and paste boy. I am a member of SINS (Society of International Nautical Scribes), inducted in Savannah in 1996 for my work on the ISAF's Olympics website, but IBM's catastrophic failure was as much a part of my induction as anything I did. The real genius of Savannah was Paul Pascoe.... he wrote the code that grabbed the datastream from the course boats and presented it in live, mark by mark roundings on the ISAF website. He had a tiny office in Savannah, what used to be a trailer bathroom... and kicked the teeth out of IBM's multi million dollar results program. I put the website content around that core code, added galleries and commentary and news, but the real beauty were those results. I got a bit of glory that should have been all Paul's.

My bar tab at the SINS party in Savannah was well over 300 US dollars, as new inductees are apparently expected to buy all the rounds. The initials ADC don't mean Amateur Dinghy Club in reference to SINS.... it's an Arguing and Drinking Club.

I do enjoy writing (particularly my April Fool's issue), and have to rewrite a lot of releases done in French (French PR tends to be a bit over the top with references to singing dolphins, otherworldly experiences on the oceans of life, etc etc...), but compared to Bob Fisher, Barry Pickthall, Tim Jeffrey, Stuart Alexander, Peter Montgomery, Peter Campbell, Angus Phillips, James Boyd, Andy Rice, Mark Chisnell??? I'm barely fit to sharpen their pencils.


WYRF: What's your business model?
David McCreary: "Advertising income. All of my advertisers are of course the finest, on the cutting edge, absolutely brilliant people, their partners beautiful, their children are all above average, etc. Those companies that don't advertise in Scuttlebutt Europe are, regrettably, headed for the dustbin of history. Shall I include my bank wire details here? I've also had the great good fortune to have Graeme Beeson handling all my advertising sales. Graeme's worked with Seahorse for many years, knows everyone in the industry and how to twist their arms just so... Those companies wishing to avoid the dustbin should contact Graeme at gb@beesonstone.com


WYRF: What makes your NL precious is its simplicity. Is this going to remain or are you planning on spectacular technical developments?
David McCreary: "Well... in my other life I build websites for the industry, so I'm fairly enamoured of the cutting edge (with the exception of the overuse of Flash, which I consider to be a tool of Satan). But email programs are very simplistic and restrictive... you can't use javascript, you can't embed videos... there are a LOT of email programs used, the "cross platform" issue is even greater than it is with web browsers.

The big deal these days is delivery to cell phones, I've got a lot of that covered already with the width issue, but there's more to do on mobile delivery, and standards change and evolve over time, so we may see more email programs' ability to read PNG graphics, for instance, or flash, or video embeds of some sort. Trying to keep up is what keeps me young. That and the fact that guys never really mature. I'm quite fortunate to be able to make a living doing something I really enjoy, and I'm not half bad at it.


World Match Racing Tour under new management
(c) Loris von Siebenthal
The World Match Racing Tour (WMRT) is under new management. Regal Faith Ltd, and its consortium of investors based in Hong Kong, Malaysia and Australia, has purchased the equity of F10 Holdings Ltd, the exclusive rights holder of the WMRT. Match racing veteran Peter Gilmour has been appointed Acting President and will become the Tour Advisor once a full time replacement has been found.

For all WMRT events it will be business as usual. The WMRT will be holding the annual Tour Summit for all event organizers on the day immediately following the World Yacht Racing Forum in Monaco on 11th December 2009. Following consultation with the Tour's event promoters and stakeholders a detailed presentation laying out the re-energized ambition and vision of the Tour will be unveiled during the opening weeks of 2010.



+ Yacht Racing News in Brief:
Fastest yacht on the planet
(c) Gilles Martin-Raget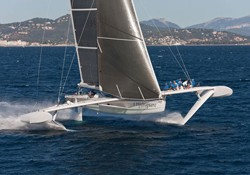 The French foiling trimaran l'Hydroptere became the fastest yacht on the planet early September, setting a new record for the 500 metre mark of 51.36 knots. Alain Thebault and his crew also set new records for the 1000 metres lifting this mark from 43.09kts to 48.72 kts. During the run Alain Thébault and his crew hit 55,5 kts (103 km/h) and set a mean velocity of 51.36 kts. A parallel project is in the course of manufacture. Hydroptere.ch, an experimental platform which will sail on the Lake Leman, will be launched in spring 2010 and will be used as demonstrator for the development of the maximum sized hydrofoiler, which will sail/fly around the world.


Louis Vuitton World Series, a foot in an ants nest?
The announcement of the World Sailing Team Association has been met with mixed feelings by some key players in the yacht racing scene. Indeed, questions have been raised as to how the new event would work with the existing World Match Racing Tour; and how the Association could use 'World' in its name without the prior sanction of the governing body of sailing, the International Sailing Federation.
Founder of the World Match Race Tour, Scott MacLeod recently commented on sail-world.com: "I don't have any issue with the Louis Vuitton World Series concept. However, you need to work within the system and make sure that you have the rights to do what you are doing and get the proper approvals from ISAF."
Asked whether he has an agreement with ISAF giving WMRT the right to veto any new match racing event that might compete with the WMRT, he answered clearly: "Yes, we are protected under our legal agreement with ISAF with any series or events that would compete or conflict with our series."
About the World Yacht Racing Forum Forum
Book early! Discount hotel rates released for Forum
Delegates for this years' World Yacht Racing Forum can now reserve their accommodation at favorable rates at the Meridien Plaza Hotel in Monaco. Click www.starwoodmeeting.com/Book/worldyacht for full rates and conditions.
Book now, fly later
Delegates to this year's World Yacht Racing Forum are encouraged to take advantage of the early prices released by airlines flying to Nice in December.
Direct flights from the UK:
British Airways from 100 Euros
EasyJet – 75 Euros
From other cities:
Geneva- 52 Euros
Paris – 75 Euros
Madrid 115 Euros
Amsterdam – 109 Euros
Dublin – 69 Euros
Athens - 170 Euros
See www.skyscanner.net for the latest prices.
We are interested in your views on the business of yacht racing. Please send any comments to media@maxcomm.ch and we will publish a selection in future Newsletters. Please note only names will be included and no contact details will be published, or distributed to any third party.